Brad Paisley Debuts New Love Song "First Cousins" on 'Fallon'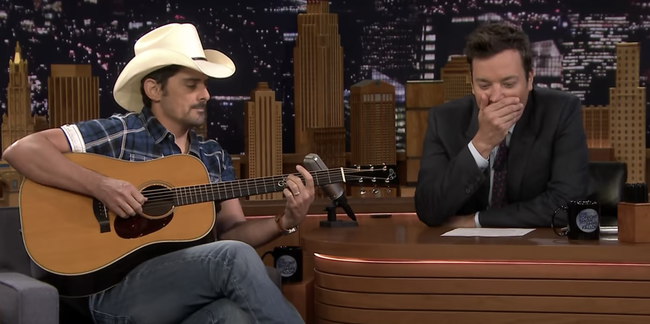 Brad Paisley is quite the jokester and let that shine during his visit to The Tonight Show Starring Jimmy Fallon on Thursday (August 9). While chatting with Fallon about gearing up to co-host the CMAs with Carrie Underwood, playing dodgeball in his personal gym, and cracking jokes about his buddy Blake Shelton, the topic of Paisley's concerts got brought up.
"If you go to see Brad Paisley in concert, you get the great songs obviously," Fallon explained. "But you tell stories, you tell jokes, you're very funny, and you actually sing some songs that aren't even released."
The country star then pulled out an acoustic guitar from behind his chair. "It's a great way to try out material," he admitted, resting the instrument on his lap. "I wrote one recently that's about that first romance."
He then went right into a sweet love song...about his cousin.
"First date, first kiss/ First taste of lovin'/ You were my first...cousin," Paisley sang, keeping a straight face. After a long pause and Fallon trying so hard not to laugh, the 45-year-old moved on to the second verse. "We got in big trouble/ With your dad, my uncle/ 'Cause you were my first/ And I'll always be your first/ And our children will be second...cousins."
Watch the hilarious video below.
After goofing off for a bit, Paisley came back to the Fallon stage and gave an enthused performance of his summer hit "Water." Though meant to be a serious song, one YouTube user wasn't so sure. "As a British person I don't know whether I'm supposed to take this seriously or is he like the country version of Weird Al?!" they wrote. "Either way, it's really cool how much this guy loves water…"
Watch Paisley declare his love for the wet stuff below.