Twenty One Pilots Test Out New Material During First Show in Over a Year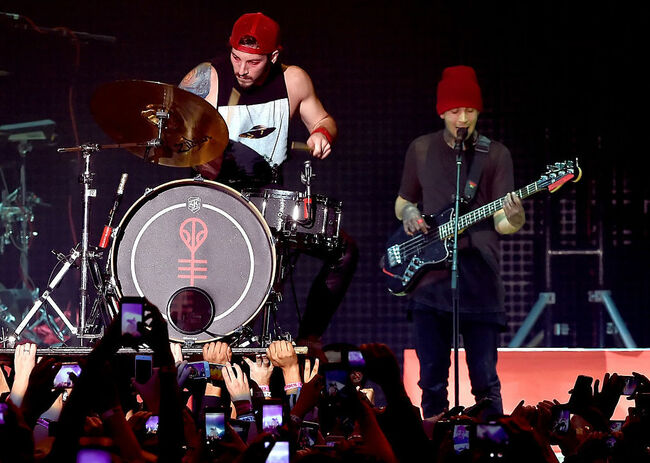 While Twenty One Pilot fans continue to wait with bated breath for the release of the duo's fifth studio album, Trench, and subsequent Banditø Tøur, nearly 5,000 lucky fans were able to see Tyler Joseph and Josh Dun test out new material during a pre-tour show at London's Brixton Academy — their first concert in over a year.
As Rolling Stone reports, the alt-rockers lit up London. Quite literally. The show began with Dun emerging from the darkness, torch in hand. He positioned himself behind his drum kit while Joseph took his place onstage. Both men donned black masks. A car sat parked at the back of the stage burst into flames, and they began the set with no introduction.
They focused on fan favorites during the 13-song set and played the new songs they've released into the world ("Jumpsuit," "Nico and the Niners," "Levitate," and "My Blood.") for the first time live. If this set is any indication of what to expect from the upcoming tour, fans are in for a treat.
Watch their "Jumpsuit," "Levitate," and "My Blood" performances and check out the full set list below.
Twenty One Pilots Brixton Academy Set List
"Jumpsuit"
"Levitate"
"Heathens"
"We Don't Believe What's on TV"
"The Judge"
"Nico and the Niners"
"Lane Boy"
"Holding on to You"
"Stressed Out""Ride"
"My Blood""Car Radio"
"Trees"
Photo: Getty Images